Easy. Personal. Fast.
We link you with the doctor specialist you need as soon as possible.
scroll down to learn how it works
Real-time.
Simple & easy.
Trustedoctor enables you to arrange real-time consultations with the right specialist for your needs when treatment decisions are urgent and travel may be difficult.
Our comprehensive doctor profiles provide all of the information that a patient requires to decide for themselves who is the best fit for their specific condition.
Step by step

to get your second opinion.

1
Find your doctor
Search our global database for the best specialist for your needs.
2
Sign up for free
Open your Trustedoctor account for free. Upload your documents and a summary of your case.
4
Doctor receives your request
Your chosen doctor receives your appointment request. They then review the records you've uploaded to assess whether they are the right fit for your needs.
3
Request an appointment
Request an appointment with your selected doctor and share your health records.
5
Accepting your case and payment 1
If they agree to take your case you can book your consultation from a range of available slots and make payment securely via PayPal. The doctor may choose to consult for free.
6
Contact specialist online via video call
Discuss your case with your chosen doctor specialist online, via an interactive video call and recieve a written second opinion after the appointment.
1. Alternatively, if they choose not to take your case, they will refer you to a doctor whom they consider more suitable for your needs, with whom you can make an appointment.
Do you have other disease?
Use PatientLink.
Reach out to suggested doctors and give them access to your digital medical records using PatientLink tool.
You can try it for free, just register at trustedoctor. PatientLink allows you to:
Share your medical records with any doctor
Get a second opinion from a specialist
Archive your medical records
Manage permission to allow or deny access
Save on time and travel
Find out more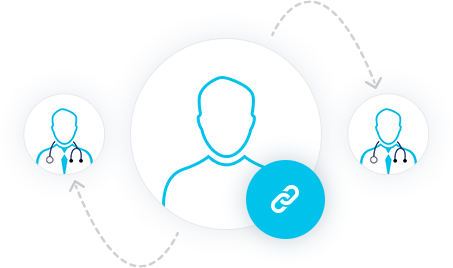 Get in touch with doctor specialists now.
Register as a patient now to access world-leading cancer experts, from your home or wherever you are.
Register now
Our website unfortunately does not support your browser.
Please click here to download and install modern browser.

Supported browsers: Firefox, Chrome, Opera.